Winter Workout Motivation
By: Jacqueline Gomes, RDN, MBA
January 25th, 2019
Burr…it's cold out there! Working out in the winter can be tough, but with the proper plan and precautions you can get the most out of it. Fitness experts say it's much easier to stick to a workout when its part of your daily routine. Just a 30-minute program five times a week (or a 60-minute workout at least three times a week) is enough to improve your overall health and well-being.
A high level of fitness leads to increased stamina which means you'll have more energy to do the things you love like dancing, playing with your kids, or giving it your all to your career. So stick with it, you can do it! Remember that staying physically active is a major factor in disease prevention! Exercise also works to build strength, enhance endurance and improve balance.
Tips:
If you're running outside be sure to cover all exposed skin
Try indoor activities such as basketball, group training or quick paced walking at the mall.
Set small, measurable goals.
Schedule an exercise time that works for you.
Be consistent.
Exercise with a friend.
Tune into your favorite music while exercising to stay motivated!
For your own safety, always be sure to stretch and include a light warm-up and cool-down period before and after your exercise – especially during the colder months! Eat a high-protein and nutritious snack afterwards for muscle growth and tissue repair!
---
Banana-Orange Smoothie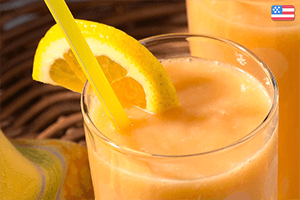 Prep time: 5 minutes
Makes: 2 Servings 
Ingredients:
2 ripe, medium DOLE® Bananas
2 medium oranges
8 ounces lowfat Greek yogurt
Dash of ground cinnamon and nutmeg
Directions:
PEEL bananas; slice into blender container or food processor.
PEEL oranges; cut into chunks.
ADD to blender with yogurt, cinnamon and nutmeg.
COVER blend until smooth.
Recipe source: Dole® Foods