Ready, Set, The Holidays are Here!
By: Jacqueline Gomes, RDN, MBA
Between holiday shopping, preparing and attending holiday parties your schedule is full to the brim! Don't let your healthy lifestyle fall to the wayside, here are some tips to stay on track…
Ready to-go dinner: A store prepared Rotisserie Chicken is a smart way to get dinner on the table fast. Remove the skin and serve alongside your favorite vegetables.
Take along snacks: Grab-and-go snacks like trail mix, yogurt, energy bars, fruit, nuts or half a sandwich can keep you satisfied until your next meal.
Relax! Decompress and reboot for a great week ahead.
5 Ways to enjoy our Store-Prepared Rotisserie Chicken!
Chicken Tacos – remove skin, cut up chicken into bite sized pieces and pair with your favorite taco filling!
Chicken Salad – toss cut up chicken with low fat mayonnaise or plain Greek yogurt, diced celery, grapes and red onion.
Chicken Stir-fry – Saute onion, bell peppers, garlic and broccoli until soft, add diced chicken and drizzle with soy sauce.
Chicken primavera – toss cut up chicken with cooked pasta and mixed vegetables.
Chicken & Avocado Melt – Place 3 to 4 slices of avocado on whole grain bread followed by thinly sliced chicken breast and one slice mozzarella cheese; place under broiler until cheese is melted – yum!
---
Chicken Italian Pizza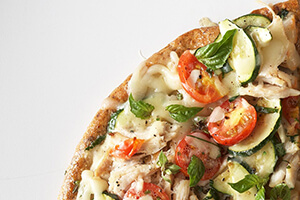 Prep: 25 minutes
Total time: 40 minutes
Makes: 1 medium size pizza pie
Ingredients:
1 tablespoon yellow cornmeal
1 portion Whole-Grain Pizza Crust (store bought or fresh)
⅓ cup purchased light Alfredo pasta sauce combined with 1 teaspoon snipped fresh basil or purchased basil pesto
1 cup chopped or shredded cooked chicken breast (5 ounces)
¾ cup cherry tomatoes, halved or 2 medium roma tomatoes, thinly sliced
½ medium zucchini, thinly sliced
¾ cup shredded reduced-fat Italian cheese blend (3 ounces) or 3 ounces fresh mozzarella cheese, sliced
¼ cup small fresh basil leaves or shredded fresh basil
Freshly ground black pepper (optional)
Directions:
Preheat oven to 425°F. Grease a 14-inch round baking stone, 12-inch pizza pan or large baking sheet (see Tip). Sprinkle with cornmeal; set aside.
On a lightly floured surface, roll Whole-Grain Pizza Crust dough into a 12-inch circle. Transfer to the prepared baking stone. Prick dough all over with a fork. Bake for 6 to 8 minutes or until crust is lightly browned.
Spread Alfredo sauce over hot crust to within 1 inch of the edge. Top with chicken, tomatoes and zucchini; sprinkle with cheese. Bake for 8 to 10 minutes more or until cheese is melted and vegetables are softened.
Before serving, sprinkle with basil and, if desired, black pepper.
Tip: For easy cleanup and transfer, line baking stone with parchment paper. Use it to slide pizza on parchment to desired surface.
Recipe: Eatingwell.com