Produce Spotlight: Apples
By: Jacqueline Gomes, RDN, MBA
You've heard the quote before…in fact you've probably heard it a million times "an apple a day keeps the doctor away". It's no coincidence that apples are the symbol of good health. According to a study from the University of Minnesota School of Public Health, eating a couple of apples a day may significantly cut heart disease risk. The study suggests that eating a relatively high fiber carbohydrate fruit like apples should be embraced!
Amazing Apple Benefits:
Apples have also been studied for their potential to help dieters lose more weight. Apples are rich in fiber, which can help you feel fuller longer. In addition, an apple is a much healthier choice over hitting the vending machine; a win-win for your waistline!
Lower Cholesterol
The pectin in apples lowers LDL ("bad") cholesterol. People who eat two apples per day may lower their cholesterol by as much as 16 percent.
Apples' strong antioxidant benefits are also related to their ability to lower risk of asthma in numerous studies, and their ability to lower risk of lung cancer.
With so many ways to enjoy apples and with so many varieties to choose from its no wonder that it is one of the most popular fruit choices amongst Americans. The United States is the second-leading producer, with more than 6% of world production!
---
Roasted New York Apple and Squash Soup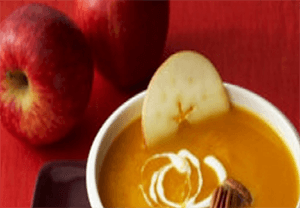 Roasted apples provide the sweetness to this delicious winter soup
Total Prep: 45 minutes
Makes: 2 servings
Ingredients:
2 Empire apples cored and quartered
1 large winter Squash (2 ½ pounds) cut into 2 inch pieces
2 medium onions, peeled and quartered
3 cloves garlic
2 tablespoon(s) extra virgin olive oil
Salt and Dinosaur Cajun Rub to taste
4-5 cups vegetable broth
Directions:
Preheat oven to 400 degrees.
In large roasting pan, toss squash, onions, garlic and apples with the oil to coat. Season well with salt and Cajun rub. Roast, stirring every 10 minutes until vegetables are fork tender and lightly browned, about 30 minutes.
Put half the vegetables with 2 cups stock in a food processor and puree to smooth. Take the other half and combine with 2 more cups of broth. Return puree mixture to the pot. If the soup is too thick, add more broth.
Serve with a dollop of Pesto on top.
Recipe: ApplesfromNY.com