By: Jacqueline Gomes, RDN, MBA
Buon appetito! Italian cuisine is one of the most popular cuisines in our area. Traditional Italian foods focus on fresh wholesome ingredients like pasta, fish, vegetables, beans and of course cheese!
Here are a few tips on keeping it healthy:
Choose the right ingredients: Include fish in your diet twice weekly and make vegetables a focal point on your dish.
Choose lower fat dairy: Ricotta cheese is a staple in many Italian dishes, control the fat by choosing part-skim varieties like Polly-O® natural cheese.
Less is more: Keep meals simple with just a few ingredients; pan-seared chicken with broccoli rabe and pasta makes a quick and healthy meal.
Use fresh herbs: Fresh herbs add vibrancy to meals! Whenever possible add chopped basil or parsley to finished dishes.
Be mindful: Eat slowly and savor every bite! Don't forget to share a meal with loved ones.
---
Ricotta-Butternut Squash Calzone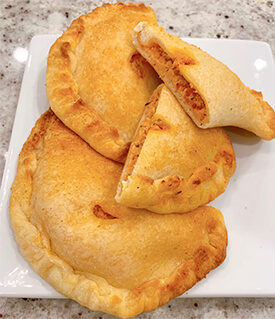 Total Prep: 45 minutes
Makes: 15-20 (6-inch) Empanadas
Ingredients:
Ready Made pizza dough (~28 ounces)
1 cup mashed butternut squash
1 cup crushed tomatoes
1 cup Polly-O® Part-skim Ricotta Cheese
1 egg
1 teaspoon Italian herbs seasoning
1 teaspoon salt
1 teaspoon garlic powder
½ cup part-skim mozzarella cheese
Olive oil & ¼ teaspoon garlic powder for brushing
Directions:
Preheat oven to 375 degrees.
In a medium size bowl combine squash through mozzarella cheese.
Pour about ¼ cup olive oil and ¼ teaspoon garlic powder in a small bowl, set aside.
Sprinkle flour over a large cutting board or on a clean counter. Roll out the dough with a rolling pin. Using a 4-inch round bowl or mug cut out 10 rounds.
Take each round and roll out to about 6 inches, place 1 to 2 tablespoons ricotta filing in center of dough. Bring one edge over to create a crescent shape. Using a fork fold over edges and seal by pressing fork around the edges.
Place on a large cookie sheet lined with parchment paper.
Using a pastry brush, brush olive oil over each calzone and snip a hole in the center using a scissor or knife.
Bake for 15 to 17 minutes or until golden brown. Enjoy warm!
Tip: Store in the refrigerator for 2 to 3 days. Freeze remaining for up to 2 months.
Recipe & Image by: Jacqueline Gomes, RDN, MBA