Hosting a New Year's Eve Family Get-Together!
By: Jacqueline Gomes, MBA, RDN  
It's time for one final push in party planning. After the last bit of wrapping paper has been thrown out and the Christmas left-overs finished up, it's time to ring in the New Year with a New Year's Eve bash!
A New Year's Eve party is the perfect time to be as festive as you can. Here are some tips and recipes the whole family will enjoy…
Hors d'oeuvre: Small bites you can prepare ahead of time will help keep guests entertained and keep you out of the kitchen to enjoy the party. Serving dinner later in the evening will make midnight seem closer than they think! Keep it simple with cheese platters, shrimp cocktail, crackers and dip; tea sandwiches and bacon wrapped scallops just to name a few. When in doubt…pop some frozen Hors d'oeuvres in the oven!
Main Entrée: There's no better way to feed a crowd than buffet style; after all this is your New Year's Eve too! Spend time with your guests while you're waiting for the ball to drop; by keeping dinner on chafing dishes your guests will feel less pressured about when to eat and more worried about…"who want's to dance?!"
Main dish ideas: Roast Turkey with mushroom sauce, Ham and Roast beef are good ideas to feed a crowd – these meats will hold up well on the buffet table.
How to feed a crowed: Generally, for meat you can feed 25 to 30 people with a 15 to 18 pound Turkey, six to seven pound boneless ham, or a 12-pound roast beef. It will be plenty when you consider appetizers and side dishes.
Side Dishes: Pasta is a crowd pleaser! For pasta, calculate about two ounces (dry) per person if it's being served as a side dish. If pasta is your main, figure about four ounces per person.
For the ball drop: There are many traditions around the world that serve different foods or drinks when the ball is about to drop. In my family we eat grapes as we count down from 12 to Happy New Year; we make a wish for each grape we eat.
Kid-Friendly Finger Food:
Pigs in a blanket
Cheese & Crackers
Hummus & Guacamole dips
Chicken fingers
Ham & cheese pinwheels
Fruit kabobs
---
Mini Tuscan Vegetable Wraps
Total Prep: 45 minutes
Makes: 18 Servings
Ingredients:
1 box (7 oz) frozen blend broccoli, carrots and sweet peppers
2 tablespoons basil pesto SAVE $
2 oz thinly sliced prosciutto (about 5 slices)
1 can Pillsbury™ refrigerated Crescent Dough Sheet SAVE $
2/3 cup peach apricot preserves
2 tablespoons spicy brown mustard
1 tablespoon finely chopped fresh basil leaves
Directions:
Heat oven to 375°F. Microwave frozen vegetables as directed on box; cool 2 minutes. Finely chop vegetables. In medium bowl, mix vegetables and pesto; set aside. Cut prosciutto into thin strips.
Unroll dough sheet. Cut into 18 squares. In center of each square, spoon about 2 teaspoons vegetable mixture. Top each with prosciutto. Pull 2 opposite corners of dough over filling; pinch to seal. Place 1 inch apart on ungreased cookie sheet. Bake 10 to 15 minutes or until golden brown.
Meanwhile, in small bowl, mix preserves, mustard and basil. Serve with warm wraps. Garnish with additional basil sprigs, if desired.
Recipe: Pillsbury®
---
Baked Coconut Shrimp with Sweet Chile Dipping Sauce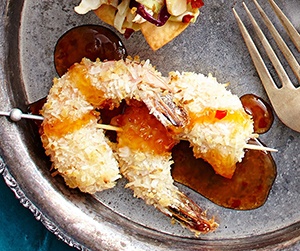 Prep: 30 minutes
Makes: 6 Servings
Ingredients:
12 medium fresh or frozen shrimp in shells (about 5 oz.)
Nonstick cooking spray
3 tablespoons all-purpose flour
¼ teaspoon sea salt
2 egg whites, lightly beaten
½ cup unsweetened shredded coconut
¼ cup panko bread crumbs
¼ cup Asian sweet chili sauce, such as Taste of Thai®
Directions:
Thaw shrimp, if frozen. Peel and devein shrimp, leaving tails intact if desired. Rinse shrimp; pat dry.
Preheat oven to 450°F. Line a baking sheet with foil; coat foil with cooking spray. In a shallow dish, stir together flour and salt. Place egg whites In a second shallow dish. In a third shallow dish combine coconut and bread crumbs.
Dip shrimp in flour mixture, then in egg whites to coat. Dip in coconut mixture, turning and pressing to coat. Place on prepared baking sheet. Coat shrimp with cooking spray.
Bake 7 to 10 minutes or until shrimp are opaque and coating is golden. Thread the shrimp onto each of twelve small wooden skewers. Serve each shrimp skewer with 1 teaspoon of the sauce.
Recipe: Diabetic Living Magazine