Healthy Kid-Friendly Recipes from Around the World
By: Jacqueline Gomes, RDN, MBA
Ethnic cuisine is one of the most popular trends in eating right now; not only do you see an exploding international foods aisle in the Supermarket but it's hard to ignore the variety of ethnic restaurants popping up all around neighborhoods. There's one thing for sure, ethnic means flavor!
Many common ingredients overlap from one cuisine to another, which makes experimenting even more interesting. For example, collard greens, most often perceived as a staple in Southern American cuisine, are a leafy green also commonly used in Portuguese dishes. Now fast-forward to today; jalapeno peppers was once only a Mexican lovers treat, but now can be found in a variety of dishes including good old-fashioned grilled cheese.
Vegetarian and vegan diets are also on the rise and there's no question about it ethnic cuisines have been doing this right for centuries – Indian, Taiwanese, Thai and Japanese are all easy ethnic-vegetarian options!
---
Pineapple Tofu Stir Fry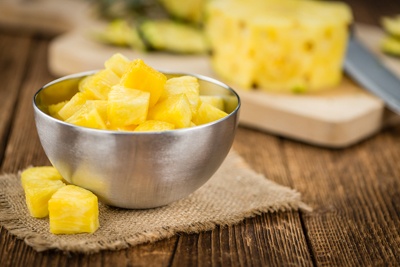 Total time: 35 Minutes
Ingredients:
1 (8-ounce) can pineapple chunks or tidbits (3 Tbsp juice reserved
5 Tablespoons rice vinegar
1 Tablespoon Ketchup
2 teaspoons brown sugar
7 ounces extra-firm, water-packed tofu, drained, rinsed and cut into 1/2 inch cubes
1 teaspoon cornstarch
3 Tablespoons canola oil, divided
1 tablespoon minced garlic
1 large bell pepper, cut into 1/2 by 2-inch strips
Directions:
Whisk the reserved 3 tablespoons pineapple juice, vinegar, soy sauce, ketchup and sugar in a small bowl until smooth.
Heat 2 teaspoons oil in a large nonstick skillet over medium-high heat. Transfer the tofu to the skillet using a slotted spoon. Whisk any remaining marinade into the bowl of sauce. Cook the tofu, stirring every 1 to 2 minutes, until golden brown, 7 to 9 minutes total. Transfer the tofu to a plate.
Add the remaining 1 teaspoon oil to the skillet and heat over medium heat. Add garlic and ginger and cook, stirring constantly, until fragrant, about 30 seconds. Add bell pepper and cook, stirring often, until just tender, 2 to 3 minutes. Pour in the sauce and cook, stirring, until thickened, about 30 seconds. Add the tofu and pineapple chunks (or tidbits) and cook, stirring gently, until heated through, about 2 minutes more.
Make Ahead tip: The tofu can marinate (step 1) for up to 30 minutes.