By: Jacqueline Gomes, RDN, MBA  
Halloween is a time of fun and excitement for kids and adults! This year I will be treating some tiny trick-or-treaters to some fun snacks at home. Here are some ideas:
Cheese is a versatile ingredient rich in protein and calcium but also super tasty! Head over to our Eat Well blog for my "pumpkin face quesadillas" using Cracker Barrel Cheese!
Better for your treats: whole grain chips, pretzels, dried fruits such as apricots, cranberries and raisins, animal crackers, single serve ready to eat boxes of cereal.
Non-food treats: glow-sticks, stickers, play-doh, toothbrushes, miniature magnifying glass, fancy pencil topper erasers, bookmarks and coloring books.
Handling candy at home
Keep candy in a location only accessible to you. Consider giving away the candy or disposing of it after a few days.
Inventory the Halloween treats for forbidden and safe treats; allow a few pieces on Halloween night.
Give one piece of candy along with a healthy food such as fresh fruit or at the conclusion of a healthy lunch or dinner.
Always brush your teeth after eating candy – perhaps there is a new toothbrush in your Halloween bag!
---
Pumpkin Face Quesadilla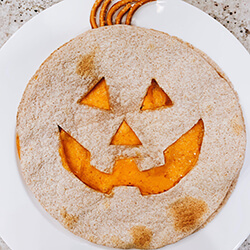 Total Prep: 10 minutes
Makes: 2 Servings
Ingredients:
2 Whole Grain Tortillas
½ cup shredded Cracker Barrel Cheddar Cheese
2 to 3 thin pretzels split into single sticks
Directions:
Heat oven to 400 degrees.
Place two tortillas on a flat surface. Using a paring knife cut out Jack-o-lantern face. I used a stencil downloaded from the internet and used my knife to trace!
Sprinkle cheese evenly over uncut tortilla and lay "pumpkin face" tortilla over cheese.
Place on cookie sheet and bake for about 5 minutes or until cheese is bubbly.
Serve with Sour Cream and Guacamole!
Recipe & Image by: Jacqueline Gomes, RDN, MBA
---
Something for the Adults!
Dark Chocolate, Cranberry & Apricot with Extra Sharp Cheddar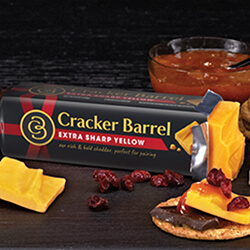 Bold Cracker Barrel Extra Sharp Cheddar paired with sweet apricot preserves, tart dried cranberries, and bittersweet dark chocolate provides the perfect flavor balance of sweet, salty, tangy, and rich.
Tip: Dark chocolate is frequently listed by its cacao content. If you prefer a sweeter dark chocolate, opt for lower cacao content, around 60 to 65%. If you prefer a more bitter dark chocolate, choose something with over 70% cacao. 
Recipe & tip by: Cracker Barrel Cheese