Grab and Go Breakfast Ideas for Hectic School Day Mornings…
By: Jacqueline Gomes, RDN, MBA
It's back-to-school with new teachers, activities, books, outfits and of course new schedules! A new schedule calls for new mealtimes. Often, the most challenging one to implement is breakfast. Avoid a case of the "sleepy-eyes" and set aside time each morning for breakfast; the first dose of fuel your body gets for the day!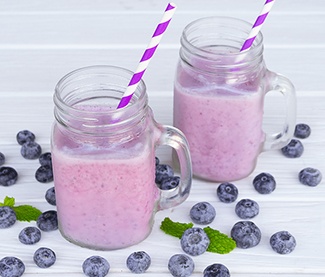 Grab & GO Breakfast Ideas for the whole family…
Prepping food the night before is a major time-saver! Think quick and portable foods like sandwiches and smoothies.
Whole wheat Bagel with cream cheese and sliced strawberries
Oatmeal Pancakes (Tip: Make-ahead & Freeze)
Fruit & Yogurt Smoothies
Egg and Cheese Sandwich
Grilled cheese on whole wheat bread
Peanut butter* & Banana roll-up (place ingredients inside a whole wheat wrap, roll-up and go!)
Overnight oats – See recipe below!
No Bake Energy Bars – See recipe below!
Breakfast Ideas for preschoolers…
Yogurt, blueberries & toasted oat cereal
Pancakes, strawberries, maple syrup & milk
Carrot Muffin, milk, sliced Canadian bacon
Scrambled eggs, half English muffin w/ fruit preserves & Milk
Whole what toast with peanut butter & sliced bananas
Oatmeal prepared with milk, applesauce
*Peanut free? Substitute sunflower seed butter or soy butter!
Find your nearest Foodtown grocery store to stock up on everything you need for the week. Be sure to download our digital coupons to take advantage of ongoing savings!
---
Apple Raisin Nut Overnight Oats
Active Prep: 5 minutes
Refrigerate overnight
Ingredients:
¼ cup uncooked old fashioned rolled oats
½ cup fat free milk
¼ cup low-fat yogurt
1 teaspoon honey or other sweetener
¼ cup chopped apples
1 tablespoon Raisins
2 tablespoon chopped almonds
1/4 teaspoon Cinnamon
Directions:
In an 8-ounce jar with a lid, combine all of your ingredients. Put a lid on the jar and shake until well combined. Refrigerate overnight or up to 3 days. Enjoy cold! Now take an extra rubber band, secure your napkin and spoon, toss it in a plastic bag or lunch box and you're off!
It's that easy! This breakfast provides Protein, fiber, calcium, potassium, vitamin D.
---
No Bake Energy Bars
Prep: 20 minutes
Makes: 24 bars
Ingredients:
2 cups unsweetened puffed brown rice cereal
2 cups old fashioned oats
1/4 cup roasted almonds, chopped
1/4 cup roasted sunflower seeds
1/2 cup shredded coconut
1/2 cup dried fruit, chopped
1/2 cup honey
1 teaspoon vanilla
1 cup mini chocolate chips
Directions:
Combine cereal, oats, nuts, seeds, coconut and fruit in a large mixing bowl.
Heat the peanut butter, honey, and vanilla in a small sauce pan until warm. Do not boil.
Pour the peanut butter mixture over the cereal mixture. Mix well while honey is still warm. Your hands are the best tool for this job!
Pour mixture into a 9×13 pan.
Pack the mixture down firmly with moist fingers or the bottom of another 9×13 pan sprayed with cooking spray.
Cover with plastic wrap. Cool completely.
Cut into 24 bars and wrap individually, store in fridge for up to 2 weeks.