Freshen Up Your Plate & Lighten Up Your Heart!
By: Jacqueline Gomes, RDN, MBA
It's time to buckle down and freshen up your lifestyle after 6 weeks of holiday eating! Fish is a fantastic high-quality protein that will easily fit into a healthy lifestyle. Our stores offer a variety of fresh fish that is easy to prepare and a delicious addition to your dinner rotation.
The American Heart Association® recommends eating fish (particularly fatty fish) at least two times (two servings) a week. Each serving is 3.5 ounce cooked, or about ¾ cup of flaked fish. Fatty fish like salmon, mackerel, herring, lake trout, sardines and albacore tuna are high in omega-3 fatty acids.
What about Benefits?
Research studies have shown that omega-3 fatty acids decrease risk of arrhythmias (abnormal heartbeats), which can lead to sudden death. Omega-3 fatty acids also decrease triglyceride levels, slow growth rate of atherosclerotic plaque, and lower blood pressure (slightly).
---
Oven Roasted Salmon with Avocado Citrus Salsa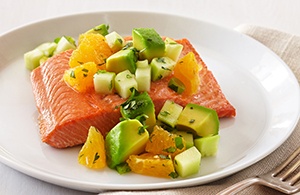 Total Prep: 20 minutes
Servings:  4
Ingredients:
1 ripe, fresh avocado (halved, pitted, peeled, diced)
3 tablespoons fresh lime juice
1 ripe navel orange, peeled and diced
1/2 cup diced, seedless cucumber
1/4 cup finely diced scallions
Jalapeno pepper (seeded, finely diced)
2 tablespoons chopped, fresh cilantro leaves
1/2 teaspoon salt (divided)
4 skinless salmon fillets (approximately 4 oz. each)
Directions:
In a medium bowl combine avocado, lime juice, orange, cucumber, onion, jalapeno, cilantro and 1/4 teaspoon of the salt; set aside.
Heat broiler.
Season salmon with remaining 1/4 teaspoon salt.
Arrange fillets on a lightly greased foil-lined rimmed baking sheet.
Broil salmon 4 inches from heat source until cooked through, approximately 10 minutes.
To serve, place fillets on a platter; top with salsa.
Quick Tips:
Large avocados are recommended for this recipe. A large avocado averages about 8 ounces. If using smaller or larger size avocados adjust the quantity accordingly. 
Source: Hass Avocado Board, The American Heart Association®