Fall back into a Breakfast Routine
By: Jacqueline Gomes, RDN, MBA
Daylight Savings Time is a great time to get back into a new routine! As we turn our clocks back and "gain one hour" for the day, use the opportunity to begin new healthy routines.
Start with exercise first thing in the morning or at lunchtime, eat a breakfast rich in complex carbohydrate and protein, eat wholesome minimally processed foods and limit caffeine.
Find breakfast challenging? Quaker Instant Oats are whole grains that give you a quick source of nutrition with fiber and support a healthy lifestyle.
Studies show that people who eat breakfast are more successful at losing weight and more alert during the day!
How can Oatmeal work for you?
Let's talk fiber….
There's solid evidence that whole grain oats and oat bran can help lower blood cholesterol thanks to the power of beta-glucan – a soluble fiber, largely unique to oats, that basically tells your liver to pull LDL cholesterol out of the blood. Then, it binds to some of the cholesterol in your gut, keeping it from ever reaching your bloodstream.*
Remember to keep your diet low in saturated fat and cholesterol to help reduce the risk of heart disease.
---
PB & J Overnight Oats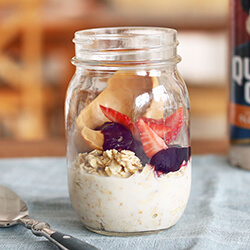 Quick and easy, overnight oats is one of the best ways to have a nutritious breakfast ready to go!  
Ingredients:
1/2 cup instant Quaker® Oats
1/2 cup low-fat milk
1/2 cup strawberries
2 tablespoons peanut butter
2 tablespoons jelly
Directions:
Add Quaker® Oats to your container of choice and pour in milk. Layer in strawberries, jelly and peanut butter.
Refrigerate overnight and enjoy in the morning. Let steep for at least 8 hours in a refrigerator 40° F or colder. Best to eat within 24 hours.
*Recipe & Source: Quaker® Oats