Brain Food Snacks for Exam Day Success
By: Jacqueline Gomes, RDN, MBA
Starting school off right includes choosing the right foods to maximize nutrients for your brain. No need to think to hard on this one, Mother Nature has the recipe you!
Best Foods to Eat While Studying
Our brain needs water, fats, glucose (carbohydrate) and vitamins to function normally; think fruits & veggies and nuts:
Blueberries: high in antioxidants which can help protect against free radical damage and inflammation. Keep a bowl of these nutrient rich superstars on your desk while you study!
Cranberries: Cranberry products such as dried cranberries are a rich source of unique bioactives called "PACs" that deliver added health benefits – such as antibacterial, antiviral, antimicrobial, anticarcinogenic, anti-inflammatory and antioxidant properties.
Nuts and seeds: rich in vitamin E which has been associated with less cognitive decline as you age. Think peanuts, cashews, almonds and sunflower seeds.
Dark Chocolate: Chocolate is known to have many health benefits through the presence of flavanoid antioxidants and ability to increase serotonin levels. New research is demonstrating that consuming chocolate may aid in improving mood and easing depressive symptoms. Recent studies demonstrate that chocolate stimulates neural activity in regions of the human brain associated with pleasure or reward. How much? One to two ounces max!
What Should I Eat Before a Test?
Salmon and other fatty fish are rich in Omega-3 fatty acids; an essential nutrient need for the development of the central nervous system. Canned salmon and tuna are terrific options that are quick and easy for lunch.
Apples – one study found that students who ate an apple at lunch showed as much as a seven point increase on test scores during afternoon exams!!
Meat, beans & soy – rich in iron, even mild iron deficiency anemia can affect cognitive ability.
Brain Power Meals
Green tossed salad topped with canned salmon – use favorite dressing
Tuna stuffed pita pocket – combine canned tuna with olive oil based mayonnaise for an extra boost of vitamin E.
Crunchy Soy Beans make a fun snack.
Nuts & Seeds – Almond butter & Banana sandwich.
Vegetarian chili prepared with a variety of beans.
Berry Delicious Smoothie – a great option not only for later risers who can sip their smoothie on the way to school, makes a tasty and nutritious snack as well.
Find your nearest Foodtown grocery store to stock up on everything you need for the week. Be sure to download our digital coupons to take advantage of ongoing savings!
---
Berry Smoothie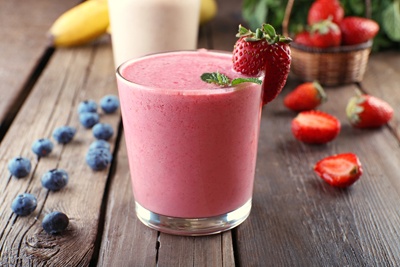 Prep: 5 minutes
Ingredients:
1/2 cup frozen strawberries (unsweetened)
1/2 cup fresh or frozen blueberries (unsweetened)
1 cup Almond Milk
Directions:
Place all ingredients into a blender. Blend until smooth. Add milk if a thinner smoothie is desired.
---
Cranberry & Goat Cheese Stuffed Pears
Makes: 8  Servings
Ingredients:
1 ½ cups fresh cranberries
7 Tbsp. honey, divided
4 medium red or green Bartlett pears
2 Tbsp. fresh lemon juice
4 oz. goat cheese
¼ cup old-fashioned rolled oats
2 Tbsp. chopped walnuts or pecans
Pinch ground cinnamon + more for topping
2 tsp. butter, melted
2 tsp. brown sugar
Directions:
Preheat oven to 425 degrees. In a small saucepan, heat cranberries, ¼ cup water and 5 tablespoons honey to medium-high heat. Bring to a simmer and allow to cook about 4-5 minutes, until cranberries just start to soften and mixture has slightly thickened. Remove from heat.
Trim a small slice off each side of the pears. Cut in half lengthwise. Hollow just the center of the pears with a melon baller or spoon, creating a cavity for filling. Rub each pear with lemon juice. Bake 17-20 minutes, until just tender (if pear is ripe, it will take less time to cook).
In a small bowl, beat goat cheese and remaining 2 tablespoons honey with a hand mixer until smooth and creamy. Place a spoonful of goat cheese mixture into each pear. Place a spoonful of cranberry mixture into each pear, next to the goat cheese mixture. In another small bowl, mix together oats, walnuts, cinnamon, melted butter and brown sugar. Place a spoonful of oat mixture on each pear. Serve with a sprinkle of cinnamon.
Recipe: The Cranberry Institute