Benefits of Red Fruits and Vegetables for American Heart Month
By: Jacqueline Gomes, RDN, MBA
February 8th, 2019 
February is the American Heart Association's Go Red for Women Campaign. Celebrate with nutritious and delicious Red fruits and veggies like these…
Red Bell Peppers: Rich in Vitamins C & A these nutrients help strengthen your immune system.
Tomatoes: Rich in the antioxidant lycopene, which studies show, may help protect against cancer and heart disease.
Strawberries: Low in calories and sugar this Vitamin C rich fruit is a tasty way to go Red!
Cranberries: Tiny, tart and full of proanythocyanidins – compounds that can clear bacteria from your bladder. 
Go Red this month and every month to maintain a healthy heart and healthy body!
Easy to Eat Well Tip: According to the American Heart Association®, here are additional heart healthy tips to follow all year long!
Eat an overall healthy dietary pattern that emphasizes:
A variety of fruit and vegetables
Whole Grains
Low-fat Dairy products
Skinless poultry and fish
Nuts and legumes
Non-tropical vegetable oils
Limit saturated fat, trans fat, sodium, red meat, sweets and sugar-sweetened beverages. If you choose to eat read meat, compare labels and select the leanest cuts available.
---
Fire Roasted Tomato Pesto With Zoodles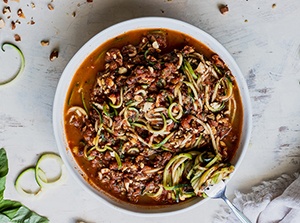 This fire roasted tomato pesto with zoodles is vegan, grain free, and packed with flavor. Whip it up for an easy and healthy weeknight meal!
Total Prep: 10 Minutes
Makes: 2 Servings
Ingredients:
5 oz Muir Glen Fire Roasted Tomatoes, drained
1/2 cup roasted almonds
2 garlic cloves
1 cup basil
1/4 cup extra virgin olive oil
2 tbsp nutritional yeast (optional)
salt and pepper to taste
2 medium zucchini, spiralized into zoodles
Directions:
Add half of the almonds to a food processor and chop until fine
Remove almonds and set aside
Add garlic and pulse, then add basil and process until finely chopped and fully combined.
Next, add olive oil, nutritional yeast, and tomatoes. Process until smooth!
Finally, add the rest of the almonds and season with salt and pepper.
In a large bowl combine zoodles with the pesto and toss to combine.
Serve with crushed almonds sprinkled on top. Enjoy!
Recipe Source: Muir Glen® Organic